Kitchen Remodel in San Diego
Wardell Builders is a full-service remodeling company located in San Diego specializing in kitchen remodeling. Our team works closely with our clients to understand their needs, style preferences, budget, and timeline to create a customized plan for their dream kitchen. We offer a wide range of services from complete kitchen remodels to custom cabinetry, countertops, flooring, lighting, and appliances.
We understand that the kitchen is the heart of your home and we make sure to provide you with a stylish and functional kitchen space. We keep up to date with the latest trends in kitchen design and materials to ensure that you get a modern, stylish kitchen with all the features and amenities your family needs. Our San Diego home remodeling projects are top of the industry for a reason.
Call Wardell Builders For All Your Kitchen Remodeling Services at (858) 793 4190.
Our kitchens and bathrooms are custom-made with durable materials to ensure longevity. We prioritize quality during the entire kitchen remodeling process in San Diego, CA, by utilizing premium materials for our cabinets and countertops to ensure they survive everyday living.
Wardell Builders Is Perfect for Your Kitchen Remodeling Budget
Our kitchen remodeling company prioritizes quality work and fair prices. While we may not be the cheapest option, we always strive to offer reasonable pricing to match your project needs without sacrificing our commitment to high building standards. Our goal is to make luxury affordable for you.
Top Rated Kitchen Renovations
In San Diego, there are multiple remodeling companies to consider. However, our team is distinguished by our extensive record of 5-star reviews, customized high-end finishes, and outstanding bathroom and kitchen work. You need a good kitchen remodeling contractor so that you can make your customized solutions come to life. Therefore, when it comes to your next kitchen remodeling project, there is no better choice than Wardell Builders.
Best San Diego Kitchen Remodeling
We are committed to delivering a final product that exceeds all expectations.
At Wardell Builders, our team specializes in personalized bathroom renovations and kitchen remodels, tailored to meet the unique needs of each client. We guarantee quality work at an affordable price. Our services include everything from full-scale renovations to small kitchen remodels, and we have a team of dedicated contractors ready to take on any job.
We offer affordable kitchen remodeling options in San Diego that use high-quality products. Our goal is to transform the heart of your home into the most beautiful room in your house, we'll increase the value of your home while keeping costs low.

For the customized kitchen of your dreams we'll work with your expert kitchen designer or architect to translate your vision into reality. Our company will discuss the options and specific custom features you want before creating a complete kitchen design and plan of action.
Complete Kitchen Remodel For a Great Price
To start your beautiful new kitchen project, give us a call and share your remodeling ideas and goals. We will give you a FREE quote based on your preferred approach, whether it's a pre-designed or customized kitchen, (858) 793 4190.
We will guide you through the available options so that you can anticipate the final cost when we present it to you at your home. After you approve our proposal and discuss your requirements for the home remodeling project, we will ask for an initial down payment for materials to proceed further toward making your dream come true.
San Diego Kitchen Remodeling Process
If you're planning to design your kitchen in San Diego, you have the flexibility to keep it simple or make it more intricate based on your preferences. We offer various kitchen design options that will make the process effortless for you. Our team will collaborate with you to select a kitchen style, and then present options for cabinets, countertops, appliances, and any other modifications you'd like to make.
If you want a personalized kitchen renovation that is tailored to your specific needs and preferences, we can connect you with a top-rated kitchen designer in San Diego. Our kitchen designers have a track record of delivering customer satisfaction. The designer will come to your home to discuss your ideas and specifications before creating a custom plan for your kitchen renovation. We will then work with the designer's plan to carry out the remodeling work.
San Diego Kitchen Remodel Done Right!
Our home remodeling company offers a hassle-free kitchen construction process for your final project stage with our chosen kitchen designs. Unlike some contractors who take on custom kitchen remodeling and overlook important variables, we guarantee a set timeframe so you know exactly what you're getting every time. Trust us to deliver an on-time and on-budget construction process for your beautiful new kitchen!
We use high-quality materials to achieve a luxurious result in our kitchen renovations. Our contractors work efficiently and strive to minimize disruptions during the renovation process. Once the work is complete, we collect the final payment and clean up, leaving you with your dream kitchen that you can enjoy for years. The Excitement is Building!
Kitchen Remodeling Service
Make sure to use our experienced kitchen remodeling contractors and project manager. They have helped people tremendously with planning their dream kitchen. We are an experienced kitchen remodeling company, whether you want an upgrade or a new build, we can do it all and make sure to keep within budget too! So don't hesitate to call us today at (858) 793 4190 and learn why people choose Wardell Builders.
San Diego Kitchen Cabinets & Countertops
We specialize in providing stylish and affordable kitchen cabinets and countertops, from custom-made cabinets to prefabricated ones. We have a large selection of styles, colors, materials, and textures available for your new kitchen. No matter what kind of style you want for your major kitchen remodel, our team will be able to provide you with the perfect cabinets and countertops to best fit your needs.
Discover our collection of cabinets in San Diego that are both practical and aesthetically pleasing. Choose from a variety of pre-built options or opt for custom-built kitchen cabinets for your specific needs. We maintain affordable prices by working with suppliers directly and integrating cabinet options into our kitchen designs for a smoother process.
Revamp Your Kitchen!
Transform your kitchen and give it a fresh look with our high-quality, premium countertop options. Depending on your specific kitchen remodeling needs, we offer a diverse selection of stone products to choose from.
For instance, if you desire lovely granite countertops for your San Diego kitchen, we can accurately source and expertly cut the countertops to your liking. We can provide a variety of stone options for your kitchen besides granite countertops, depending on your desired appearance and budget. Contact us today for a free quote on new countertops in San Diego at Wardell Builders at (858) 793 4190!
Kitchen Design You've Always Dreamed Of
Transform your kitchen into the space of your dreams with Wardell Builders. Our custom-built and detailed designs cater to your style, whether you're starting from scratch or updating. Trust us to deliver tailored solutions for your bathroom remodeling requirements, from tiling floors and walls and installing new fixtures to more.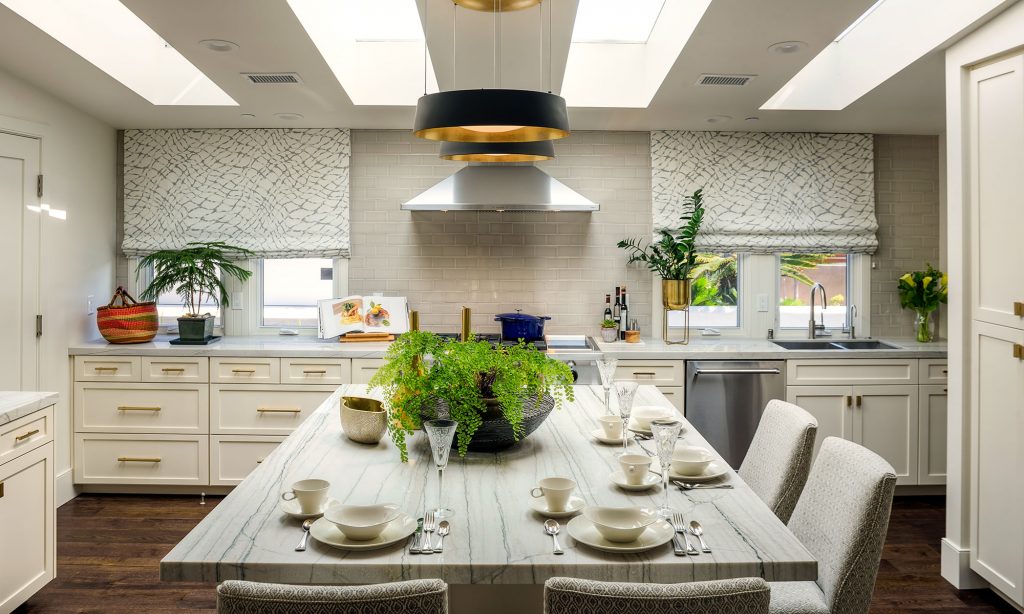 Your Friendly Neighborhood Kitchen Remodelers
If you're planning to remodel your home, we suggest hiring a contractor who is based locally. Even if you don't choose our remodeling company, choosing a big box store may not offer you the same personalized experience and attention to detail that we offer our clients.